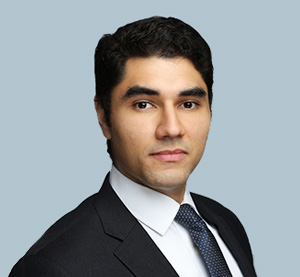 Omran is a criminal defence specialist with experience representing clients accused of a wide array of offences.
Omran regularly appears in the Crown Court, Youth Court, Magistrates' Court and Court of Appeal.
Omran specialises in cases that raise complex questions of law, including the interaction between human rights and crime. His experience in and knowledge of the criminal system means he is regularly instructed in crime-related matters including stalking protection orders, sexual risk orders, applications to delete cautions and claims for mishandling of conviction data.
Omran is a creative and fearless barrister, determined to secure the best outcome for his clients. He does not shy away from arguing novel points of law. He is well-liked for his down-to-earth approach that puts clients at ease. He is sought after for his strategic approach to cases and his tactical acumen.
Omran is qualified to accept instructions directly from members of the public on the Direct Access Scheme. 
Before coming to the bar Omran worked with several NGOs on counter-terrorism issues including extraordinary rendition, torture and drone strikes.
Omran supported Manchester United while Paul Pogba was still there. He is now an ardent Juventus supporter.
What others say
"Omran went over and above in defending me. He put me and my family at ease during the most stressful time in my life. I can't thank him enough." - NZ, acquitted of rape
"We are grateful to Mr Omran Belhadi for his clear and succinct submissions, both in writing and orally before us" - Court of Appeal
Crime
Omran is instructed in all manner of criminal cases. A sample of his cases include:
Serious violence and weapons
R v TB – successfully argued before a judge that a man found with a firearm inside a speaker had a defence in law to possession of a prohibited weapon. The Crown instructed a QC and junior at trial following Omran's success.

R v MN – represented a brother accused of causing s.18 GBH to another brother in a joint enterprise stabbing. Acquitted.

R v PW – secured a suspended sentence for a guilty plea on the first day of trial to s.18 GBH. The defendant swung a weapon at his partner which resulted in a broken finger.

R v BS – represented a man of good character charged with s.18 GBH against an 81-year-old victim caught on CCTV. Following service of neurological and psychiatric evidence the Crown were forced to accept a plea to s.20.
Drugs
R v AM – representing a man of good character in an upcoming 8-week conspiracy to supply Class A drugs.

R v MR – representing a youth charged with drug supply. The case involves complex issues of modern slavery, abuse of process and the instruction of experts in cell-site and drugs.

R v SW – represented a youth victim of county lines exploitation charged with drug supply. Following Omran's written representations, the prosecution was discontinued.
Protest
R v EC – defended an HS2 protestor charged with aggravated trespass. Acquitted on the basis he was exercising his right to protest. The prosecution appealed the acquittal by way of case stated (DPP v Cuciurean [2022] EWHC 736 (Admin))

R v LB and others – defended three out of six HS2 protestors charged with obstructing police officers. All were acquitted based on Omran's cross-examination of the police officers which revealed police actions to be "dangerous", according to the District Judge.
Sexual offences
R v NZ – defended an 18-year-old of good character accused of rape and sexual assault when he was 16. Acquitted.

MPS v AB – successfully resisted an application for a Sexual Risk Order following service of detailed psychiatric and social services evidence. Issues of law as to admissibility of jury's findings of fact in these proceedings.
Criminal Appeals
Omran has been successful in appeals before the Court of Appeal. A sample of his cases include:
R v AF – successful appeal against sentence for possession of a bladed article caught by mandatory minimum provisions. Sentence reduced from 15 months to 9 months.

R v Goodman [2021] EWCA Crim 1466 – successful appeal against sentences for robbery and attempted robbery. The Court emphasised the importance of providing reasons for sentence. Sentence reduced from 7 years to 5 years.

R v BS – successful appeal against sentence for s.20 against an 81-year-old victim. Sentence reduced from two years to 18 months custody